HISTORY
Southern Railway (Bulleid) Corridor Composite
Type: CK (Corridor Composite)
Built: May 1947, underframe at Lancing, body at Eastleigh (E3235)
Original Number: 5768
British Railways Number: S5768S
Seating: 24 1st, 24 3rd
Length: 64' 6"
Weight 34 Tons
Withdrawn by British Railways: 1968
Preserved: 1968
Arrived on the Bluebell Railway: 30th September 1971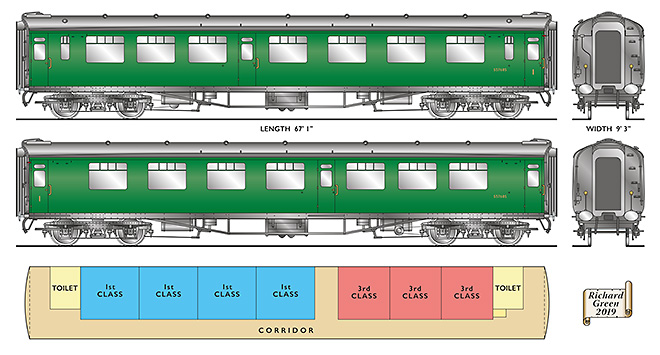 This coach, one of the last built by the Southern Railway, is distinguished from the BR built Bulleid coaches by the shallower sliding lights (the opening parts of the main windows). It was used as part of three-coach set No. 787 on the Weymouth and West of England trains out of Waterloo until withdrawn in 1968 and sold to the Bulleid Pacific Preservation Society, later renamed The Bulleid Society. It was initially preserved with Bulleid Pacific, Blackmoor Vale at Liss, until both coach and engine moved to the Bluebell in 1971, where it received an overhaul, before entering traffic on 15th May 1976 as part of the five-coach Bulleid set formed for the return of Blackmoor Vale. Further work was then found necessary as a build-up of rust in the window frames caused three of the large curved side-lights (windows) to crack.
Through the late 1970s and 1980s the four (later six) Bulleid coaches provided the core of the Bluebell's operating fleet. No. 5768 was relieved from front line duty on the restoration of BR steam stock coach, CK 16210 in October 1991, by which time it was showing its age. It received further repairs to keep it running, until in 1993 its deteriorating condition caused it to be reduced to use on only a handful of peak days. It was repainted again in 1994 to enable it to continue in occasional use, but unfortunately two of the sidelights cracked again, and the work required to replace them was considered futile in view of the poor general state of the body. It requires substantial re-sheeting with new window frames, the renewal of much of the structure, which is substantially rotten in several places, as well as the probable replacement of the entire floor.

The coach is now undergoing overhaul in the Carriage and Wagon Works, Horsted Keynes.